Physician Assistant Program
Click here for admissions information for those interested in the RRCC PA Program.
The Red Rocks Community College Physician Assistant Program is accredited by the Accreditation Review Commission on Education for the Physician Assistant (ARC-PA). The RRCC Program offers courses leading to a Certificate in PA Studies and prepares the student for the Physician Assistant National Certifying Exam (PANCE) which is administered by the National Commission for the Certification of Physician Assistants (NCCPA). Upon passage of the PANCE, graduates are eligible for licensure in any state. Students admitted to the RRCC PA program are co-registered at Saint Francis University and complete a fully-accredited master's degree. PANCE pass rates for the RRCC PA Program graduates and the national pass rates are presented below.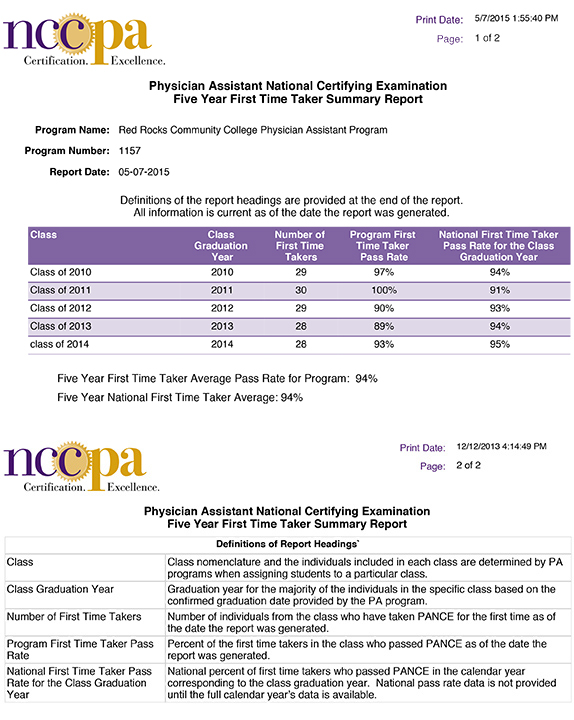 Physician Assistants (PAs) are health professionals authorized by law to practice medicine under the supervision of a licensed physician. Within the physician/PA relationship, physician assistants often exercise delegated autonomy in decision-making and provide a broad range of diagnostic and therapeutic services. The clinical role of PAs includes primary and specialty care in medical and surgical practice settings in rural and urban areas. Though physician assistant practice is primarily directed toward patient care, PAs also provide leadership in educational, research and administrative settings.
The Red Rocks Physician Assistant Program
The Red Rocks Physician Assistant Program is a rigorous 25-month, state-sponsored, nationally-accredited curriculum that recruits adult learners who have prior experience in health care. Our mission is to train clinically competent and compassionate physician assistants to provide primary care to the medically underserved.
The Program was created in 1998 after several years of needs assessment and after community support was determined to be strong. The first class was admitted in January of 1999; subsequent classes were admitted in August of each year thereafter beginning in 1999.
Our students have been successful in careers such as nursing, physical therapy, emergency services, exercise physiology, medical assisting, radiographic technology, respiratory therapy and audiology, among many others. Some students hold a master's or doctoral degree; all have a baccalaureate degree. Admission to the Program is extremely competitive. The average age of each class is between 28 and 30 years old , and class size is 32.
Here's what our preceptors say about our students:
"[This student] is well beyond her level of training, and her professional demeanor, work ethic, and emotional intelligence make her an absolute joy to work with. She is independent functioning, but knows her limitations and is comfortable asking for help when she needs it. Easily one of the best students I have ever worked with in the Emergency Department."
- Denver Health Emergency Physician

"[This student] is an excellent role model for the Red Rocks PA Program! She has much better clinical skills than any other student I have worked with before. It is clear she has devoted herself to becoming the best PA she can be."
- Internal Medicine PA
Click here to see the Mission, Values, & Goals of the Physician Assistant Program.
If you have questions about the PA profession, a great website for info is www.aapa.org. We do not schedule individual transcript reviews or appointments with program faculty.
Accreditation
The Accreditation Review Commission on Education for the Physician Assistant (ARC-PA) has granted Accreditation-Continued status to the Physician Assistant Program sponsored by Red Rocks Community College. Accreditation-Continued is an accreditation status granted when a currently accredited program is in compliance with the ARC-PA Standards.
Accreditation remains in effect until the program closes or withdraws from the accreditation process or until accreditation is withdrawn for failure to comply with the Standards. The approximate date for the next validation review of the program by the ARC-PA will be March 2017. The review date is contingent upon continued compliance with the Accreditation Standards and ARC-PA policy.
Affirmative Action/ Equal Opportunity
Red Red Rocks Community College is committed to diversity in its people and programs. The College is an equal opportunity educational institution and does not discriminate on the basis of disability, race, creed, color, sex/gender, sexual orientation gender identity, religion, age, national/ ethnic origin, pregnancy status, veteran's status, genetic information, physical or mental disability, or any other category protected by applicable law, in its employment practices or educational programs and activities. 
RRCC has designated the Executive Director of Human Resources as its Affirmative Action Officer/Equal Opportunity Administrator/Title IX Administrator with the responsibility to coordinate its civil rights compliance activities and grievance procedures. For information, contact Bill Dial, Executive Director of Human Resources, Title IX Coordinator, Title VII/Equal Opportunity Coordinator, ADA/Sec 504 Coordinator, 13300 West Sixth Avenue, Lakewood, Co 80228. 303-914-6298, bill.dial@rrcc.edu. Click here for more info.